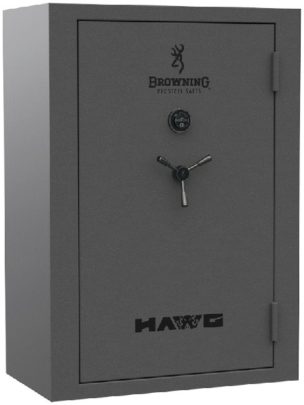 Looking to Buy a Browning Safe? Give us a Call!
Knowell's Lock & Safe sells a wide variety of new & used safes, including Browning Safes. We encourage you to come in to our showroom to see these, as well as hundreds of other safes. You'll also meet our staff – and we promise you'll have the best gun safe buying experience ever. We're a local family business, and treat our customers like family too.
We hope to speak with you soon!
Knowell's is here for you before, during & after the sale (and we mean it! If you need anything, we'll help you out).
For safes, we not only deliver your safe, but we will set it up and go over the features with you. We want you to be comfortable with your new purchase.
I might also mention that we take great care transporting the safe through your home being careful not to damage it's surroundings. And that's from many years of experience!
And we are also the happy faces which you'll see if ever you have a warranty issue with your safe
About Browning Gun Safes
Whether you are looking for a small, compact gun safe to tuck away, or a large, secure safe for a more sizeable gun collection, there is sure to be a Browning safe to fit your needs. If you are looking for a secure and attractive way to protect your firearms, then look no further.
In 1879 the legendary gun maker, John Browning, founded his eponymous company. The company began with Browning's patented single-shot rifle, but quickly grew to offer a great range of products. Historically, John Browning has been an influential figure in the industry and revolutionized and redefine firearms with his new and exciting innovations. Today, this company carries on his legacy by providing quality products that integrate the newest technologies, available in an attractive and modern designs.
From high-quality firearms to inventive new shooting accessories, Browning is committed to fulfilling all your hunting and security needs. Here at Safe & Vault Store, we understand how important security is when it comes to protecting your firearms. That is why we are excited to provide some of the best safes on the market.
The Browning gun safes are elegant and secure safes that you can trust to protect your firearms and other valuables. Choose a simple, sleek finish or show off your Browning safe with beautifully etched game scenes and scroll designs. Show your support for Ducks Unlimited®, National Wild Turkey Federation®, Rocky Mountain Elk Foundation® and the National Rifle Association with Browning's new Heritage Graphics option.
The incredible craftsmanship of the Browning gun safes is more than skin deep. The Browning gun safes are as practical and they are attractive. Every Browning gun safe is built with reliable, heavy-duty materials and fitted with dependable locking systems. Each safe features a high-temperature fire seal and dense, fire-resistant insulation, so you can rest easy knowing your firearms are safe from theft and fire.