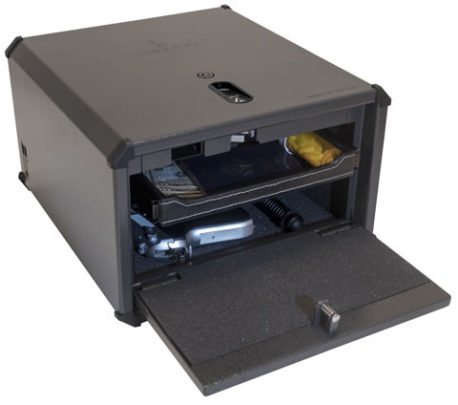 Looking to Buy a Handgun Safe? Give us a Call!
Knowell's Lock & Safe sells a wide variety of new & used safes, including Handgun Safes. We encourage you to come in to our showroom to see these, as well as hundreds of other safes. You'll also meet our staff – and we promise you'll have the best gun safe buying experience ever. We're a local family business, and treat our customers like family too.
We hope to speak with you soon!
Knowell's is here for you before, during & after the sale (and we mean it! If you need anything, we'll help you out).
For safes, we not only deliver your safe, but we will set it up and go over the features with you. We want you to be comfortable with your new purchase.
I might also mention that we take great care transporting the safe through your home being careful not to damage it's surroundings. And that's from many years of experience!
And we are also the happy faces which you'll see if ever you have a warranty issue with your safe
Why Should I Buy a Handgun Safe? FAQ's & All the Basics You Need to Know
Designed to offer increased security to gun owners, handgun safes are an essential element of gun safety. Whether you own one handgun or numerous pistols and revolvers, a handgun safe will ensure you can keep them in a secure location when they're not in use. 
What is a handgun safe?
A handgun safe is specially designed to store short-barreled guns safely. Predominantly used for the safe storage of revolvers and pistols, handgun safes vary in size. In some cases, a handgun safe can be a portable unit that enables you to take your handgun from one location to another safely.
Alternatively, handgun safes can also be permanently installed on to your premises. With the option to have a handgun safe hidden in the wall, bolted on to the floor or freestanding, there are a variety of choices when it comes to gun safety.
Why should someone buy a handgun safe?
A handgun safe is a vital piece of equipment for anyone who owns a short-barreled weapon. If anyone gains unauthorized access to your weapons, the consequences could be devastating. Due to this, it's essential you have a robust and secure handgun safe in which to store your equipment. 
In addition to this, a handgun safe will give you peace of mind when storing weapons. Knowing your guns are secure in a high-quality handgun safe will reassure you that they cannot be accessed by children, family members or burglars. With the dangers of improper gun care well documented, the importance of having a high-quality handgun safe simply can't be underestimated.
What to consider when buying a handgun safe?
There are multiple types of handgun safe available, so you'll need to consider various factors when deciding which one is right for you. The size of your handgun safe will depend on the number of weapons you plan to store. However, some handgun safes offer additional space for other types of valuables too. 
Furthermore, you may want to opt for a safe which offers enhanced protection from fire. While some handgun safes offer up to 30 minutes of fire protection, others provide up to 2.5 hours of protection. By talking to a specialist at Knowell's Lock & Safe, you can find the perfect handgun safe to suit your needs.
What do handgun safes cost?
Handgun safes can vary in price but it's always worth investing in a high-quality safe when you're storing any kind of weaponry. As well as being expensive pieces of equipment, guns can be extremely dangerous if they fall into the wrong hands. 
What's the difference between a cheap handgun safe and a more expensive one?
A cheap handgun safe might seem like a bargain but they won't necessarily offer a good level of protection. In fact, many burglars can break into a cheap handgun safe in seconds. With a more expensive handgun safe, however, you can benefit from advanced security measures and near-invincible security. 
About Knowell's Lock & Safe
A premier handgun safe distributor in the U.S., Knowell's Lock & Safe are the largest safe dealers in North Florida and South Georgia. As well as stocking a variety of handgun safes, we also offer secure safes for other types of weaponry too. If you own rifles or shotguns, for example, you'll need a larger safe to store to them in. Our range of gun safes and handgun vaults ensures we have the perfect range of safes to protect your collection. 
At Knowell's Lock & Safe, we're committed to providing our customers with the highest level of customer service. Our extensive experience and attention to detail mean we're well-placed to offer you the advice and assistance you need when choosing a safe for your home or office.
As well as helping you to find the right security equipment, we also offer delivery and installation services. A professional installation will ensure your handgun safe is made secure, while our experienced staff will ensure heavier safes are moved and installed easily. 
Furthermore, we offer a range of services to help you maintain your safes and keep your security measures up to date. From safe relocation and digital lock upgrades to safe repairs and locksmithing, we provide a comprehensive service to residents and businesses in North FL and South GA.
To find out more about our range of handgun safes and security options, contact Knowell's Lock & Safe now on (904) 387-0042.
About Jacksonville, FL
One of the most popular cities in the country, Jacksonville is well-known throughout the U.S. As well as being a bustling commercial city, it's also home to a wonderful variety of neighborhoods and residential areas. From Palm Valley and Atlantic Beach to MacClenny and Fleming Island; the towns and regions situated in the north east of Florida are among the most popular places to live in the country. 
Jacksonville, in particular, has much to offer its residents. A major factor in the area's popularity is its close proximity to the ocean. With sprawling shorelines and miles of waterways, it's the perfect place to relax, swim and take to the water. If you're a fan of kayaking, windsurfing or diving, you'll find endless opportunities to explore your passion. For fishing aficionados, the waterways and ocean offer unrivaled natural fishing opportunities, while St. John's River is the ultimate environment for boating excursions.
Filled with attractions and adventures, Jacksonville, FL is popular with tourists and holidaymakers too. Whether you're traveling in to attend one of the City's many concerts and festivals or you're moving to the area, there's no doubt you'll be impressed by everything the City has to offer.
As well as the permanent attractions which offer year-round entertainment, there is a full calendar of events taking place too. From historical and cultural tours to music gigs and film festivals, you'll always find something exciting happening in Jacksonville.
For businesses like ours, Jacksonville, FL is the perfect base to operate from. With easy links to neighboring areas and a strong sense of community, we're proud to serve the people of Jacksonville, North Florida, and South Georgia.