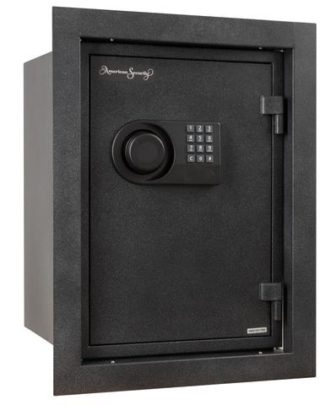 Looking to Buy a Wall Safe? Give us a Call!
Knowell's Lock & Safe sells a wide variety of new & used safes, including Wall Safes. We encourage you to come in to our showroom to see these, as well as hundreds of other safes. You'll also meet our staff – and we promise you'll have the best gun safe buying experience ever. We're a local family business, and treat our customers like family too.
We hope to speak with you soon!
Knowell's is here for you before, during & after the sale (and we mean it! If you need anything, we'll help you out).
For safes, we not only deliver your safe, but we will set it up and go over the features with you. We want you to be comfortable with your new purchase.
I might also mention that we take great care transporting the safe through your home being careful not to damage it's surroundings. And that's from many years of experience!
And we are also the happy faces which you'll see if ever you have a warranty issue with your safe
Why Should I Buy a Wall Safe? FAQ's & All the Basics You Need to Know
Many different types of safe are perfect for protecting your belongings. A wall safe is unique, and it might be the ideal solution for you. Before you make your purchase, here are some frequently asked questions that you should find helpful:
What is a wall safe?
A wall safe is built into one of the walls in your home. You can conceal it behind paintings or tapestries, and it offers easy access. They differ from conventional safes because they are literally embedded within the wall, whereas standard safes are freestanding. 
Why should someone buy a wall safe?
Wall safes are a convenient option if you want to hide your valuable possessions in an easy to reach location. We offer floor safes as well, but they're harder to get to as you need to crouch down to the floor. A wall safe is more convenient for people who perhaps can't bend down that low – like the elderly. 
Not only that, but wall safes still offer a high degree of security. They can be well-hidden, keeping your items safe if you're ever burgled. Plus, it's almost impossible for the average person to remove a wall safe. By the time they've managed to get it free, the police will be at your door ready to arrest them!
What to consider when buying a wall safe?
You need to think about the following before you buy as it will help you find a wall safe that's perfect for you: 
Installation location: Consider where you will install your wall safe, and if you have walls that are suitable for them. If your walls aren't thick enough, then it might not be the right option for you. 

Size: Of course, you need to think about how spacious the safe will be as this controls how much you can put in it. 

Thickness: You need to have a safe that's thick enough to withstand heavy blows. Wall safes can be thinner than floor ones, but they're still strong enough to handle lots of force. 

Water/fireproof: Check to see if the safe is either waterproof or fireproof – ideally both! Or think about whether or not this matters to you. 
What do wall safes cost?
The cost of a wall safe varies depending on the quality. They can be more expensive than standard safes because the installation process is more complicated. Really, the price goes up as you look at the thicker and more secure safes. Usually, you should spend a few hundred dollars on a good quality wall safe. 
What's the difference between a cheap wall safe & a more expensive one?
A cheap wall safe tends to be quite small and will have thin walls. You'll find that most cheap safes save money by reducing the thickness of the materials, but this means you don't get the same level of protection. Expensive ones are made using better materials and are often much larger and thicker. In essence, the difference is that a cheap wall safe can probably be smashed in with a hammer, while an expensive one will hold firm. 
About Knowell's Lock & Safe
At Knowell's, we believe that everyone should have peace of mind knowing that their belongings are safe. You shouldn't have to go about your day with the constant fear that something valuable could get stolen. Instead of carrying it around with you wherever you go, we can provide top-quality safes that will keep them secure. These safes can be installed in homes, offices, or any other locations. We'll fit them for you, and show you how to use them as well! 
We've been around since 1978, and nobody knows more about safes than us. Amongst our wide variety of safes, we offer highly secure gun safes in Jacksonville, Florida. A gun safe is robust and large enough to hold your weapon of choice. It's the best place to keep a gun in the home as you avoid anyone accidentally discovering it and causing an accident. Plus, as an expensive investment, you want to make sure it doesn't get lost or stolen. 
Alongside this, we also offer a friendly locksmiths service in the Jacksonville area. We have trained technicians who can handle several different issues relating to locks. This includes fitting homes with brand new locks, upgrading the lock on a specific door, and helping you gain access to your home if you're locked out. 
No matter what, we're always here to help our customers. So, please don't hesitate to contact us if you want to learn more about our services. 
About Jacksonville, FL
Jacksonville, Florida, is both culturally and aesthetically diverse. People from all walks of life live in this large city, and that makes for a colorful and friendly atmosphere. There are lots of different festivals and cultural displays on throughout the year, and you won't struggle to find a range of eateries offering up various cuisines. 
The people of Jacksonville are quick to point out how different this city can be depending on where you go. Some areas are crowded and packed full of typical metropolitan landscapes. There are tall buildings, lots of busy shopping centers, and a thriving business district. But, amidst all of this, Jacksonville is famous for its range of urban park walkways. These are lovely spots of green dotted around the city, showing that this part of Florida is one with nature as well.
Jacksonville is growing every year, largely thanks to the investment being made in the city. Business is booming, and the arts & culture scene is also thriving. Lots of new housing developments are being created, and there's a very high standard of living in this fantastic city. It's a place where you can do and see almost everything. There are countless historical landmarks and museums, some of the best beaches in Florida, and plenty of happy locals always keen to point you in the right direction. 
We're happy to call Jacksonville our home. It's a city that does things a little differently and isn't afraid to be dynamic and progressive.