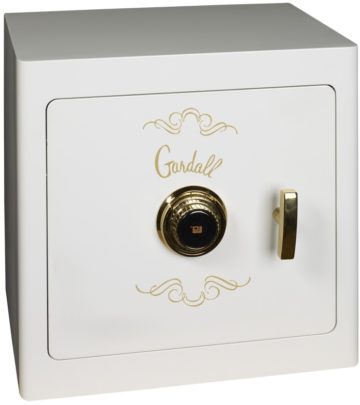 Looking to Buy an Jewelry Safe? Give us a Call!
Knowell's Lock & Safe sells a wide variety of new & used safes, including Jewelry Safes. We encourage you to come in to our showroom to see these, as well as hundreds of other safes. You'll also meet our staff – and we promise you'll have the best gun safe buying experience ever. We're a local family business, and treat our customers like family too.
We hope to speak with you soon!
Knowell's is here for you before, during & after the sale (and we mean it! If you need anything, we'll help you out).
For safes, we not only deliver your safe, but we will set it up and go over the features with you. We want you to be comfortable with your new purchase.
I might also mention that we take great care transporting the safe through your home being careful not to damage it's surroundings. And that's from many years of experience!
And we are also the happy faces which you'll see if ever you have a warranty issue with your safe
Why Should I Buy an Jewelry Safe? FAQ's & All the Basics You Need to Know
A jewelry safe will keep your treasured items safe and secure, providing you choose the right model. At Knowell's Lock & Safe, we offer a wide range of jewelry and high-security safes to give you protection and peace of mind.
What is a jewelry safe?
Characterized by numerous drawers and multiple segmented areas, a jewelry safe is the perfect place to keep high-value bracelets, necklaces, rings, brooches, earrings, and pendants. Whether you're securing precious gemstones, vintage pieces or sentimental gifts from loved ones, a jewelry safe is designed to keep them secure. 
Why should someone buy a jewelry safe?
Jewelry is high on the radar of burglars and thieves, so it's vital you take appropriate security measures. As jewelry is typically small and light, it's easy for would-be thieves to slip it into a pocket and make their getaway. 
With a high-quality jewelry safe, however, you can ensure that no one gains unauthorized access to your pieces. Furthermore, a jewelry and high security safe will protect your items in the event of a fire, flood or tornado. By choosing the right model, you can ensure that your valuable jewelry is kept safe in any situation. 
What to consider when buying a jewelry safe?
When you're buying a jewelry safe, it's important to consider its placement. Tucking it away in a spare room or basement may make sense from a security point of view but it may mean that your jewelry is inaccessible. As a result, you'll either end up not wearing your favorite pieces or not placing them in the safe every night.
By choosing a robust and top-quality jewelry safe, however, you can install it in a prime location, such as the master bedroom. Providing you opt for a jewelry safe that offers a high level of protection, installing it in a common location won't mitigate the security measures you're taking.
What do jewelry safes cost? 
Jewelry safes vary quite considerably when it comes to cost. While there are budget options on the market, this rarely provides an adequate level of security. If the sides of the safe aren't welded, for example, it could be fairly easy to break into and access the contents. 
By spending a little more on your jewelry safe, you can get better value for money. Indeed, when you select a top-quality jewelry and high security safe, you can be sure you're getting the level of security you need.
What's the difference between a cheap jewelry safe & a more expensive one?
Ultimately, a more expensive jewelry safe can give you increased security and reassurance. Of course, a high price tag doesn't automatically mean high quality, which is why it's important to seek specialist advice when buying a jewelry safe. At Knowell's Lock & Safe, we carry a wide range of home, office and jewelry safes and are ready to help you find the best model for your needs.
About Knowell's Lock & Safe
Operating throughout the north east of Florida, we supply a wide range of safe services. As well as delivering and installing new safes to residents and businesses up and down the state, we also offer safe relocation, locksmith services, lock upgrades, safe maintenance, and repairs.
In addition to this, Knowell's Lock & Safe are the largest safe dealer in North Florida and South Georgia, which means you can trust us to provide the expert service you require. In addition to offering a wide range of jewelry and high-security safes, we also stock diversion safes, depository safes, gun safes, and handgun vaults.
As many residents in Florida own guns, we're committed to increasing gun safety throughout the state. Our high-quality gun safes and vaults enable you to keep rifles, shotguns, and pistols in any location. With the increased security offered by a top-quality gun safe, you'll have peace of mind that your weapons can't be accessed by anyone else.
Our experience as safe dealers, retailers, and locksmiths ensure we're well-placed to assist with your purchase. Whether you have a clear idea of the type of safe you want, or you need advice regarding security, our dedicated team are on hand to provide the help you need.
To learn more about increasing security with jewelry safes, home safes, office safes or gun safes, contact Knowell's Lock and Safe now on (904) 387-0042.
About Jacksonville, FL
Surrounded by sandy beaches, endless oceans, and a thriving city, Jacksonville is one of the most popular places to live in the entire United States. With a great business district, safe neighborhoods and a vast array of attractions, it's not surprising so many people are drawn to the area.
For lovers of the outdoors, Jacksonville is the perfect place to live. Offering over 22 miles of beaches, as well as extensive parklands and fishing spots, the area offers everything you could want – and more. Jax, as its affectionally known by the locals, has more shoreline than any other city in the U.S. With a staggering 1,100 miles of shoreline, the water is a big part of life in Jacksonville.
Whether you want to kayak along the river, surf the waves or try the latest craze of hydro foiling, there really is something for everyone. Of course, you don't have to be a fan of high-octane sports to enjoy living in Jacksonville, FL. With miles of coastal cafes, restaurants, and bars, you can have just as much fun relaxing on the shore, lazing on the beach, walking across the dunes and watching the waves come in.
As the largest safe dealer in North Florida and South Georgia, Knowell's Lock and Safe are an integral part of the community here in Jacksonville. We work with numerous businesses and homeowners to help ensure the safety of local neighborhoods and we look forward to continuing in this role. To find out more about security in Jacksonville, FL, why not get in touch with us today?