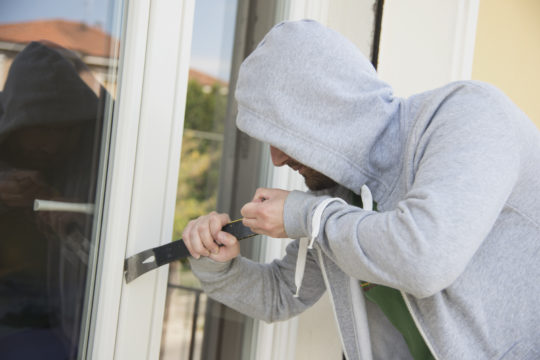 Have you ever wondered how often burglars actually break into homes? Home robberies are not as uncommon as people like to think. Part of protecting your home is knowing who might be involved, when break-ins are most likely to occur and what items are most frequently stolen.
When Do Burglaries Occur?
The F.B.I. says burglary is the most common threat to American homes, with a break-in that involves theft occurring every 13 seconds. Here are a few alarming statistics:
Homeowners report two million burglaries every year. More than half are residential.
One misconception is that danger only exists at night, but most burglaries occur during daylight between 10 a.m. and 3 p.m.
Theft happens quickly, lasting an average of three to 12 minutes.
What Do Burglars Look Like?
Thieves don't approach your home wearing a black mask with a sack over their shoulder. Almost all of them are male and more than half of them are Caucasian. Thirty-one percent are Hispanic. Many of them are younger than 25 and have a previous criminal history that includes theft, violence or drug charges.
Most of them live within two miles of the residence they break into and often know the person who lives there. Much of the time they get away with their crime, with the national arrest rate for theft sits at only 13 percent. If you know someone with a history of theft or violence, you may be their next target.
How Do Thieves Get In?
Thirty percent of the time, the thief comes in through an open door or unlatched window. More burglaries take place during the summer than any other time, perhaps because doors and windows are more likely to be left open.
Who Is a Likely Victim?
Homes that don't have security systems are up to three times more likely to be broken into by a burglar. Renters are as likely to experience a break-in as homeowners, but homes are targeted more frequently than apartments. They offer more entry points and have fences and shrubbery that hide an intruder from view. Homes in the middle of the block are broken into more often than those on corner lots.
Students are the most likely demographic to be stolen from, either because they carry the latest technology or because they associate with people more likely to steal. Elderly people are the next most stolen from population.
Burglars often break into the same location more than once. Once they know where a home is vulnerable, it's easy to return for the valuables they didn't carry away on the first visit.
Shocking Things Homeowners Admit
People are aware that theft is a possibility, but they often feel it won't happen to them. Sixty-four percent of individuals who have property insurance say when they leave home, they often leave doors and windows unlocked. Even when homes have an alarm system, 34 percent of residents say they don't set it.
Protect your home from intruders by making sure windows and doors are secure. The Safe Depot provides rekeying and installs high security locks. Make sure your home is protected when you request locksmith services today.